Kenya is well know for its wildlife and Masai Mara is one of Africa's Greatest Wildlife Reserves. The reserve is especially famous for the high amount of predators, such as lions and cheetah, and the 1.5 million wildebeest which migrate through the Mara and cross the crocodile infested Mara river.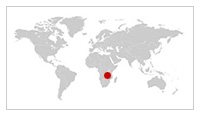 The Masai Mara National Reserve is located southwest in Kenya, adjoining to the Tanzanian boarder and is at altitude from 1,500m to 2,170m, comprising 1,672 km2. In Maa, the language common to the Masai clans, the word "mara" means "spotted" – referring to the clusters of bush dotting the plains.
Masai Mara National Reserve stretches 1,510 sq km (580 sq miles) and raises 1,500-2,170 meters above sea level. It hosts over 95 species of mammals and 570 recorded species of birds.
Weather Essentials
| Month | High Temp. | Low Temp. | Precipitation | Weather |
| --- | --- | --- | --- | --- |
| January | 30°C | 17°C | 8 cm | |
| February | 30°C | 18°C | 9 cm | |
| March | 30°C | 18°C | 16 cm | |
| April | 28°C | 18°C | 17 cm | |
| May | 28°C | 17°C | 16 cm | |
| June | 28°C | 17°C | 8 cm | |
| July | 28°C | 16°C | 6 cm | |
| August | 29°C | 16°C | 6 cm | |
| September | 30°C | 17°C | 8 cm | |
| October | 30°C | 17°C | 9 cm | |
| November | 29°C | 17°C | 12 cm | |
| December | 29°C | 17°C | 8 cm | |
Attractions
This place is a heaven on earth for wildlife lovers and gives the opportunity to see the these wild animals in their natural habitat. The rangers patrol regularly which means that there is almost no poaching and therefore excellent game viewing. There is also strict control over vehicle numbers around animal sightings which means a better, more authentic, experience when out on a game drive.
Best time of the year to visit Masai Mara is in the month of July/August or at the end of November.
Wildebeests migration is one of the most amazing wonders of nature when millions of animals cross over from Serengeti National Park in Tanzania to Masai Mara National Reserve in Kenya from July to October. As Tanzania's plains fade to yellow after the summer rains,…
Game drives can be most exciting adventure for wildlife lovers, enthusiast and photographers. The drives are Masai Mara are designed to take you close to the wildlife rich spots gives you an opportunity to view wild animals in their natural habitat. Visitors can enjoy…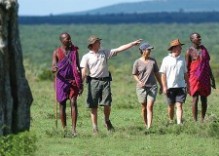 Game walking is an amazing experience. It gives you an intense feeling of the greatness and the astonishing Masai Mara Ecosystem. Walk almost quietly through the diverse arrays of grasses and enjoy the fresh smell of the plains and the prickly heat of the…
Balloon safari is one of the hot favorite with the tourists as they enjoy the birds eye view of the reserve and a memorable sunrise. Most of these safari are conducted in the early morning as you spend about one hour silently floating over…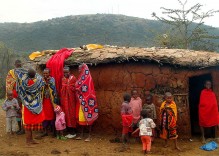 You cannot go on Safari in Kenya´s Masai Mara without curiously having an urge to visit and experience the way of life for the most cultural tribe in Kenya. The Masai are one of the ethnic groups in Kenya who have preserved their culture…
Travel
The National Reserve is about 270 km from the capital Nairobi City and takes about 5-6 hours by road or 40-45 minutes by flight. Jomo Kenyatta International Airport (JKIA), formerly called Embakasi Airport and Nairobi International Airport, is Kenya's largest aviation facility, and the busiest airport in East Africa. JKIA has direct flight connections to Europe, the Middle East, Far East and the African Continent. Many travellers use Johannesburg, South Africa as the hub while travelling to Kenya and other places in South East Africa.
Some of the airlines with direct flight to Nairobi are:

A visa is required for entry into Kenya for most people but no visa is required for nationals of the following countries: Barbados, Maldives, St. Lucia, Belize, Malta, Swaziland, Botswana, Mauritius, Seychelles, Brunei Darussalam, Namibia, The Gambia, Burundi, Nauru, Tanzania, Cyprus, Papua New Guinea,…
Maps & Area
function initialize_72() { if(maps[72] === undefined) { var gmap_options = { center: new google.maps.LatLng(-1.581981,35.2451), zoom: 8, mapTypeId: google.maps.MapTypeId.ROADMAP } maps[72] = new google.maps.Map(document.getElementById("map72"), gmap_options); } else { setTimeout(function(){ google.maps.event.trigger(maps[72], "resize"); maps[72].setCenter(new google.maps.LatLng(-1.581981,35.2451)); }, 30); } } jQuery(document).ready(function(){ google.maps.event.addDomListener(window, "load", initialize_72); });

Tips
Wildebeest migration happens between July to October and this is the best time to see this incredible movement of animals.
December to February is also great times to visit as it is dryer and good for the Big Cats.
Based on your travel itinerary, you might be required to have yellow fever vaccination and certificate.
Consult your doctor 4 to 6 weeks before your travel to ensure all precautionary medication and vaccinations are taken care of.
Check the weather conditions during your travel dates to ensure right type of clothing. Click here to view Current Weather
Some important items to carry during your trip are insect repellent, torch light and a cap/hat.
Avoid wearing very bright cloths and fragrant perfumes while on game drives.
Kenyan shillings (KSH) is the most widely used currency in Kenya but other international currencies like USD ($), EUR (€) & GBP (£) can be easily exchanged.
There are plenty of ATMs just outside Arrivals at Jomo Kenyatta International Airport and also downtown near the Stanley. In terms of safety and security, you're probably better off using the ATMs at the airport when you first arrive.
1 USD is about 85 KES. Click here for Currency Converter