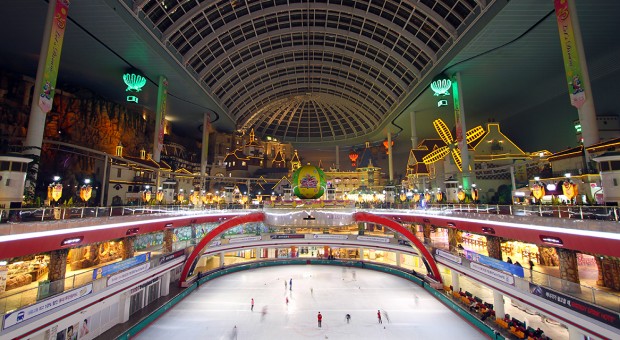 Lotte World is a major recreation complex in Seoul, South Korea. It consists of the world's largest indoor theme park (a Guinness World Record) which is open all year around, an outdoor amusement park called "Magic Island", an artificial island inside a lake linked by monorail, shopping malls, a luxury hotel, a Korean folk museum, sports facilities, and movie theaters.
A theme park filled with thrilling rides, an ice rink, different kinds of parades as well as a folk museum, a lake, and much more.
All the attractions and rides are packed across 4 floors and various regions:
1. The Adventure of Sindbad: Follow Sindbad on a underground adventure.
2. The Conquistador: Extreme thrills on a swinging boat that swings up to 75 degrees.
3. Flume Ride: Explore the jungle filled with dinosaurs.
4. Camelot Carousel: A romantic ride on 64 trotting white seeds.
5. Giant Loop: A speeding loop train that makes 360 degree resolutions.
6. Drunken Basket: Spinning loop that holds up to 108 people.
7. 3D Desperadoes II: Ride with life-like special effects.
8. Dragons Wild Shooting: Chaotic shooting adventure with mischievous dragons hidden.
9. Lolly's Air Balloon: A thrilling adventure ride in a flying air balloon.
1. Lolly's Kidstoria: Playground filled with soft-foam characters.
2. Kids Bumping Car: Keep bumping, riding on a magic car.
3. Swing PANG PANG: Bounce with Lolly and his friends.
4. BOONG BOONG Car: Magical tour on a spinning car into the cookie forest.
5. Brother Moon & Sister Sun: Jump into the sky with Brother Moon & Sister Sun to run away from tiger!
6. Eureka: Eureka! the first inverted flying car.
7. Jumping Fish: Explore aquatic adventure! The only way to escape from the evil shark is to jump it over.
8. Do you speak Beluga?: Interactive live show with Beluga.
1. Pharaoh's Fury: Take a journey to find Pharaoh's hidden treasure.
2. Aeronauts Balloon Ride: Take a hot-air balloon ride above the park.
3. Dynamic Theater: Watch and feel the movie with your body.
4. Animal Theater: Animal kingdom princess wedding.
1. Jungle Adventure: Take a journey in the whitewaters of the jungle.
2. World Monorail: Tour ride across LOTTE WORLD.
1. French Revolution: Intense high speed train that males 360 to 540 degree twists and turns.
2. Bumper Car: Crash into other cars for fun.
1. Atlantis: Ride a road racing at a speed of 72km per hrs.
2. Gyro Swing: Spins like a storm and rocks side to side.
3. World Monorail: Tour ride across LOTTE WORLD.
4. Ghost House: Scary experience as a cat jumps into a haunted house on a stormy day.
5. Petit Beep Beep: Classic European cars for children.
6. Gyro Drop: Free fall from a 70 meter height at a speed of 100km per hrs.
7. Fantasy Dream: A fantastic underground trail tour full of cute animals.
8. Geneva Cruise Line: A romantic boat ride looking at the gorgeous landscapes.
9. Comet Express: Exuberating space train where the seats spin freely.
10. Swing Tree: Spinning around a tree on a leaf chair.
11. Kiddie Ferris Wheel: Children ferris wheel.
12. Pirate Ship: A small ship for children that rocks back & forth.
13. Bungee Drop: Vertical thrills of three continuous bungee drops.
14. Castle Music Show: Animated special effects.
15. Lord Nelson's Armada: A nostalgic boat ride on a swan for two.
16. Gyro Spin: Exhilarating time to surf with a disc that twirls and slide.
Apart from all the above attractions there a lots of food & beverage stalls and shopping options.
40-1 Jamsil-dong, Songpa-gu, Seoul, South Korea
Jamsil Station (Seoul Subway Line 2 & 8), Exit 4.
Lotte World is directly connected to the station.
9:30 am – 11:00 pm (Nighttime admission: 16:00-23:00)
Open all year round.
Admission Ticket
Adults: 25,000 won / Youths: 22,000 won / Children: 19,000 won

Nighttime Admission Ticket (Discount)
Admission after 16:00:
Adults: 21,000 won / Youths: 18,000 won / Children: 15,000 won

Admission after 7:00 pm
Adults: 14,500 won / Youths: 12,500 won / Children: 10,500 won

global.lotteworld.com
Children: ages 4-12 / Youths: ages 13-18