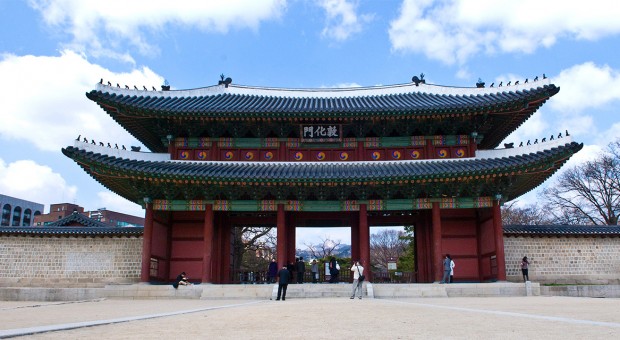 Changdeokgung Palace Complex consisting of a number of official and residential buildings buildings that were integrated into and harmonized with their natural setting. Constructed in the 15th century during the Joseon Dynasty, the Changdeokgung Palace Complex occupies a 58 ha site in Jongno-gu, in northern Seoul at the foot of Ungbong Peak of Mount Baegaksan.
Changdeokgung Palace Complex is part of UNESCO World Heritage List and is a famous tourist attraction for its beautiful Korean architecture and gardens.
Changdeokgung was used as the secondary palace to Gyeongbokgung for 200 years, but after the palaces were burnt down during the Japanese invasion in the late 16th century, it was the first to be reconstructed and since then served as the main seat of the dynasty for 250 years.
99, Yulgok-ro, Jongno-gu, Seoul
Anguk Station (Subway Line 3), Exit 3.
About 5min. walk from there.or

Jongno 3(sam)-ga Station (Subway Line 1, 3 or 5), Exit 7.
About 10 mins. walk along Donhwamun-ro Street.

April–September: 9:00 am – 6:30 pm
October: 9:00 am – 6:00 pm
March & November: 9:00 am – 5:30 pm
December–February: 9:00 am – 5:00 pm

Closed on Mondays: Changdeokgung, Deoksugung, and Changgyeonggung palaces.
Closed on Tuesdays: Gyeongbokgung Palace and Jongmyo Shrine.

Regular Tour (Changdeokgung Palace)
Adults (ages 19-64): KRW 3,000
Children (ages 7-18): KRW 1,500Huwon Tour (Secret Garden area)
Adults (ages over 19): KRW 5,000
Children (ages 7-18): KRW 2,500
* Admission to Changdeokgung Palace included.
eng.cdg.go.kr
Special discounts on entry tickets available for groups of 10 pax. and above.

Admission to the Four Palaces (Changdeokgung Palaces (including Huwon, Secret Garden), Changgyeonggung Palace, Deoksugung Palace, Gyeongbokgung Palace) and Jongmyo Shrine is available at a discounted price of KRW 10,000 per person (valid for 1 month).