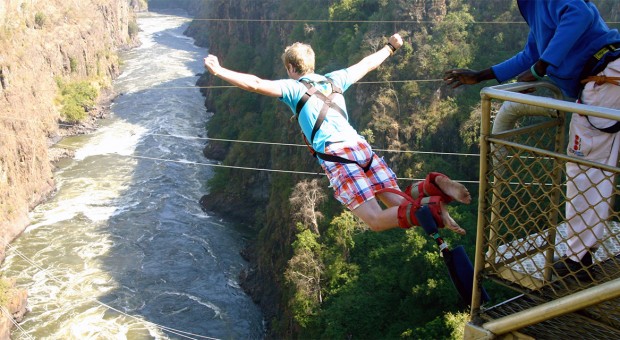 The must do, the ultimate thrill! 111 meter of Pure Adrenalin! Off the famous Victoria Falls Bridge, with a spectacular backdrop of the majestic Victoria Falls, move to the edge, arms out and 5-4-3-2-1- BUNGEE leaving yourself plummeting towards the rumbling waters of the rapids of the Zambezi River and let the adrenaline flow.
Dare to Bungee Jump? Then come and experience this high adventure, adrenalin pumping bungee jump at Victoria Falls!
The registration area is set up adjacent to the bridge on the Zambian bank of the Zambezi River. All clients are to proceed to the registration area prior to jumping. No special clothing, equipment or experience is necessary. Jumpers are advised to remove any jewelry and accessories. The clients are screened, weighed, and registered for the jump. Registering includes signing an indemnity form, payment and the recording of the payment transaction.
Should a client decide not to jump PRIOR to the registration process, a refund is offered, however once a client has been registered and has signed the indemnity form, a 100% cancellation fee will be levied.
On average each jump costs around US$ 140.00 per person.