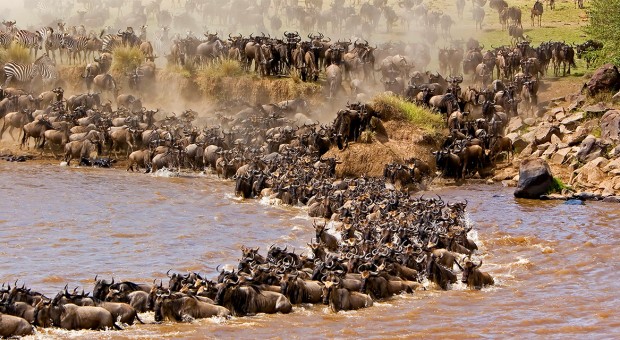 Wildebeests migration is one of the most amazing wonders of nature when millions of animals cross over from Serengeti National Park in Tanzania to Masai Mara National Reserve in Kenya from July to October.
As Tanzania's plains fade to yellow after the summer rains, millions of beasts act as if responding to a central impulse. The horizon fills, as far as the eye can see, with 1.4 million wildebeest and 200,000 zebra, eland and gazelle, tracked relentlessly by opportunistic predators. This is the Great Migration – one of the most awe-inspiring sights on earth. Dwindling food sources command the first beast of this primal march, which begins on Tanzania's southern Serengeti plains. As if following an ancient rallying call, the great herds migrate north towards the Masai Mara plains.
Come late July, the grasses of the western Serengeti die and the herds move on north. After crossing the Grumeti River in Tanzania, the herds head towards Kenya's Lamai Wedge and the Mara triangle. However, before they are able to reach the succulent grassy plains of the Mara, they are faced with the next dangerous river crossing, the Mara River. This too is filled with hungry crocodiles.
By late July the animals have massed along the swollen Mara River – their final barrier from the sweet grass ahead. With wild eyes, they plunge in to brave the crocodiles awaiting abundant and easy pickings. Of those that survive the reptiles' rapacious jaws, many drown or fall pray to lions waiting in ambush on the opposite bank. This dramatic life-and-death struggle is nature's annual theater.
A living tapestry of waving savanna, sheltering thorn trees, rounded hills and tall gallery forest, the visual feast of the Masai Mara draws photographers and visitors from across the globe.