Seoul is the capital and largest metropolis of South Korea. Situated on the Han River, Seoul's history stretches back more than 2,000 years. The Seoul metropolitan area contains four UNESCO World Heritage Sites:

1. Changdeok Palace
2. Hwaseong Fortress
3. Jongmyo Shrine
4. Royal Tombs of the Joseon Dynasty
Seoul is in the northwest of South Korea. Seoul proper comprises 605.25 sq km, with a radius of approximately 15 km, roughly bisected into northern and southern halves by the Han River. The city is bordered by eight mountains, as well as the more level lands of the Han River plain and western areas.
Attractions
Seoul is a beautiful metropolitan city which has lots of attractions to serve all kind of tastes. It is by far South Korea's largest city and one of East Asia's financial and cultural epicenters. A fascinating blend of ancient traditions and cutting-edge digital technology, home to endless street food vendors and vast nightlife districts, an extraordinarily high-pressure educational system and serene Buddhist temples, a trend-setting youth culture and often crushing conformism, extraordinary architecture and endless monotonous rows of grey apartment buildings, Seoul is a city filled with stark contrasts.
Seoul, South Korea is a tourist destination for all year round. It has four distinct seasons, Spring, Summer, Fall, Winter. Spring (March to May) is probably the best time of the year to visit Korea with beautiful cherry blossoms almost everywhere!!
Gyeongbokgung Palace arguably the most beautiful and remains the grandest of all five palaces is also called "Northern Palace" because it is the furthest north when compared to the neighboring palaces of Changdeokgung (Eastern Palace) and Gyeongheegung (Western Palace). The name of the palace,...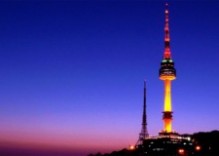 The N Seoul Tower, officially the YTN Seoul Tower and commonly known as the Namsan Tower or Seoul Tower, is a communication and observation tower located on Namsan Mountain in central Seoul, South Korea. It marks the highest point in Seoul. Tower offers panoramic...
Dongdaemun Market is the shoppers paradise and you can get anything and everything there. It is located in Jogno-gu in Seoul, South Korea and comprises of a large number of shopping malls, various kinds of traditional shops and modern shops as well. These shops...
Changdeokgung Palace Complex consisting of a number of official and residential buildings buildings that were integrated into and harmonized with their natural setting. Constructed in the 15th century during the Joseon Dynasty, the Changdeokgung Palace Complex occupies a 58 ha site in Jongno-gu, in...
Cheongwadae also know as the Blue House is the executive office and official residence of the South Korean head of state, the President of the Republic of Korea and located in the capital city of Seoul. The signature markings of the Presidential Residence of...
Everland Resort is a theme park in Gyeonggi-do province of South Korea. It is divided into 5 distinct zones: Global Fair, Zoo-Topia, European Adventure, Magic Land and American Adventure. 1. Global Fair Global Fair is primarily a place for food, souvenirs and pictures as...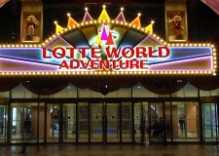 Lotte World is a major recreation complex in Seoul, South Korea. It consists of the world's largest indoor theme park (a Guinness World Record) which is open all year around, an outdoor amusement park called "Magic Island", an artificial island inside a lake linked...
War Memorial of Korea is located in Yongsan-dong, Yongsan-gu, Seoul, South Korea. The memorial building has six indoor exhibition rooms and an outdoor exhibition centre displaying over 13,000 war memorabilia and military equipment. This memorial is the largest of its kind in the world....
Travel
Most visitors arrive via Incheon International Airport, located on Yeongjong Island in the neighboring city of Incheon. There are various options available for traveling to downtown Seoul:
By Train
The A'REX train link connects the Incheon International Airport to Seoul Station and Gimpo domestic airport operating from 5:20 AM until midnight. Express services to the city (every half hour) takes 43 minutes and cost KRW 8000 (with WiFi available on board), while commuter services (every 6 minutes) take 53 minutes and cost KRW 3700. Travel time to Gimpo Airport is 28/35 minutes, with both services charging KRW 3100, making this the fastest and cheap option for intra-airport transfer.
By Bus
Travelling by Airport Limousine buses is quite convenient if you have a lot of luggage. Limousine buses costs KRW 15,000 to/from city for one way, KRW 6500 to/from Gimpo Airport (domestic flight)) travel directly to major areas and big hotels in Seoul, while public buses costs KRW 8000/9000 and will take you to major transit hubs. If you're visiting for the first time, it's worth paying a bit extra for the limousine bus.
Travelling within Seoul metropolitan
Subway systems offer a convenient way of exploring metropolitan cities in Korea. It consists of 17 lines that serve the Seoul Metropolitan Area and has been described as the world's longest multi-operator metro system by route length.
For tourists, Subway City Pass is available which can be used on subway or bus up to 20 times a day, regardless of the distance or mode of transportation. Tourists can enjoy the Seoul City Tour Bus that take them around the downtown and palaces as many times as they wish.
There are 3 types of Seoul Citypass cards available: the 1 day pass, the 2 day pass, and the 3 day pass. The Seoul Citypass expires after 24 hours of each respective day depending on the type of card you buy.
| Card Type | Price | Seoul City Tour Bus | Subway, City Bus |
| --- | --- | --- | --- |
| 1 day pass | KRW 15,000 | 1 day unlimited | 1 day, up to 20 times |
| 2 day pass | KRW 25,000 | 2 days unlimited | 1 day, up to 20 times × 2 days (total 40 times) |
| 3 day pass | KRW 35,000 | 3 days unlimited | 1 day, up to 20 times × 3 days (total 60 times) |
Tourists can buy these passes from the following places:
1. Korea Smart Card Main Office, 10th floor Seoul City Tour Building, Namdaemunno 5-ga, Jung-gu
2. Incheon International Airport 1st floor (Family Mart, Mini Stop)
3. Tourist Information Centers
There are variety of benefits and discounts for admission to major tourist attractions with the Seoul Citypass:
Seoul City Tour Bus night viewing course - 20% off
Seoul Metropolitan Museum of Art - free admission
Chongdong Theater - 10% off
Nanta - 10% off
Hangang (River) Ferry Cruise (only at Yeouido dock) - 10% off
63 Building Observatory - 10% off
N Seoul Tower - 10% off
Other discounts on restaurants, stores, etc. Refer to the leaflet given along with the Citypass purchase.
Seoul City Tour Bus
To get the most out of your stay, visit some of Seoul's most famous attractions by taking a trip aboard the Seoul City Tour Bus, which offers four unique courses. The Seoul Panorama Course circles Seoul's major tourist attractions, while the Downtown/Palace Course covers the famous Cheonggyecheon Stream and the royal palaces. The Traditional Market Course stops at some of the best traditional markets and shopping towns in Seoul and finally, the Night Course provides an opportunity to take in the city's spectacular night views. Travelers can pick the tour that is best suited to their interests.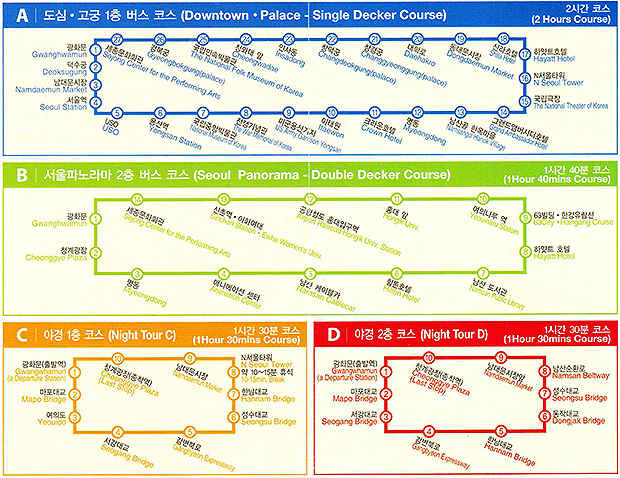 Night course tour is not that great. It is a simple bus ride across the city and you may very well give it a skip.
Foreign nationals entering the Republic of Korea are required to have a valid passport and a Korean visa. However, nationals of visa waiver countries can enter Korea without a visa as long as the purpose of their visit is tourism or temporary visit. If...
Maps & Area
Tips
Check the weather conditions during your travel dates to ensure right type of clothing. Click here to view Current Weather
South Korean Won (KRW) is the local currency of South Korea but other international currencies like USD ($), EUR (€) & GBP (£) can be easily exchanged.
1 USD is about 1000 KRW. Click here for Currency Converter
Save on city travel by using Seoul Citypass cards.