The Chobe National Park is located in Botswana's North West District, with the Chobe River forming the Park's northern border.It is flanked in the south west by the Okavango Delta / Moremi Game Reserve, and by the Chobe forested parralel to the Zimbabwe border in the east.
It attracts thousands of visitors every year due to its fame as one of the largest game concentrations in the country. Not only this, but this wildlife sanctuary also boasts the largest elephant population in Africa both in number and size. Chobe National Park is the second largest national park in Botswana and covers 10,566 square kilometres. It has four distinctly different eco systems: Serondela with lush plains and dense forests in the extreme north-east River area; the Savuti Marsh area in the west; the Linyanti Swamps in the north-west and the hot dry surroundings in between the other three.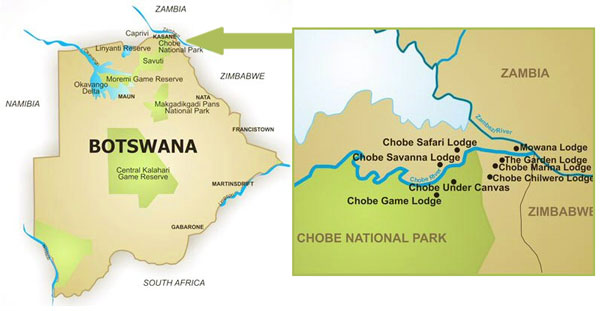 Video of Elephants at Chobe National Park – Botswana (1min 16sec)

Attractions
Chobe National Park is probably best known for its spectacular elephant sightings with a population estimated around 70,000 and having the highest concentration of elephants in Africa. At Chobe you can get so close to elephants that you can hear the deep rumblings as they communicate with each other. Elephants living here are Kalahari elephants, the largest in size of all known elephant subspecies.
Chobe River Safari in Chobe National Park is one of the best wildlife safari destination in Africa. The Chobe River allows for the perfect venue where all animals will quench their thirst. The Chobe floodplains and the tall giants on the river banks is…
Travel
Chobe is served by Kasane Airport, which is a short distance from the majority of the hotels and lodges that are perched at the edge of the Chobe River, just outside of, and 'down stream' from the Chobe National Park.
Kasane Airport is an important gateway into the game-rich Okavango Delta. Six kilometers east of the town of Kasane is the tiny border post of Kazangula, which serves as the border entry/exit point between Botswana and Zimbabwe/Zambia.
Victoria Falls is literally under a two hour road transfer from the Kazangula border post from both the Zambian and the Zimbabwean side of The Falls. Interestingly enough, should you be entering or leaving Botswana via Zambia, you will need to cross the Chobe River by ferry at the Kazangula border post – a very 'African' experience all on its own.
Kasane also offers access to Namibia's Caprivi Strip. There are a range of beautiful lodges that are situated, on islands within Namibia's Caprivi territory, however they too offer the typical Chobe experience. This entire area is unique as it is the meeting point of four countries: Botswana, Namibia, Zimbabwe and Zambia.
A valid travel document and visa is required for entry into Botswana. For a complete list of countries which require visas to enter Botswana, please click here. Nationals of these countries, do not requirement a visa provided they have a valid travel document. VISA…
Maps & Area
function initialize_789() { if(maps[789] === undefined) { var gmap_options = { center: new google.maps.LatLng(-18.666667,24.5), zoom: 8, mapTypeId: google.maps.MapTypeId.ROADMAP } maps[789] = new google.maps.Map(document.getElementById("map789"), gmap_options); } else { setTimeout(function(){ google.maps.event.trigger(maps[789], "resize"); maps[789].setCenter(new google.maps.LatLng(-18.666667,24.5)); }, 30); } } jQuery(document).ready(function(){ google.maps.event.addDomListener(window, "load", initialize_789); });
Tips
Consult your doctor 4 to 6 weeks before your travel to ensure all precautionary medication and vaccinations are taken care of.
Check the weather conditions during your travel dates to ensure right type of clothing. Click here to view Current Weather
Some important items to carry during your trip are insect repellent, torch light and a cap/hat.
Do not try to feed animals for your own safety as well as for the animal's well-being.
Avoid wearing very bright cloths and fragrant perfumes while on game drives.
Botswana Pula (BWP) is the local currency of Botswana but other international currencies like USD ($), EUR (€),GBP (£) & ZAR (R) can be easily exchanged.
1 USD is about 9 BWP. Click here for Currency Converter